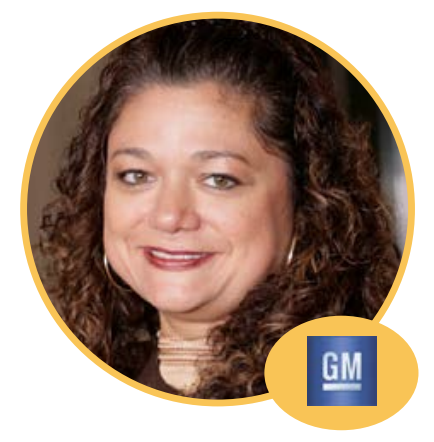 Alma Guajardo-Crossley is not just an influential leader; she is a generous principal who leverages her voice and influence to elevate others in her local community. Crossley serves as GM's director of Corporate Diversity, and says "I personally mentor quite a few people. It is so important to do that. I probably take on too many mentees sometimes. I can't help it." Reflecting on her own journey, she notes how much she would have wanted to have someone to coach her during her early years. "I didn't have that," she said. Beyond mentoring emerging leaders at her company, the Corporate Executives Forum™ (CEF) alumna means business when it comes to building a pipeline of talent in Science, Technology, Engineering and Mathematics (STEM). "As a manufacturing and technology company, I want to make sure Latinos understand this is the most opportune and worthwhile space to be in."
The Road to College
Crossley graduated from Kettering University, then known as the GMI Engineering & Management Institute, and she has spent her entire career in the automotive industry. She was only 18 years old when she joined General Motors and credits her eldest brother, who worked as a GM engineer at the time, for encouraging her to take the leap. "We came from a humble background. Our parents didn't have the means to get us a good education, but there was a school that at the time was privately owned by GM," Crossley explained. "I didn't necessarily want to be an engineer but they had a great business degree, so I decided to go." She eventually graduated with a Bachelor of Science in Management Systems with a major in marketing, with hardly any student loan debt. The competitive five-year program afforded her a wealth of experiences, along with various rotations that would effectively prepare her for her first job after graduation—Oldsmobile district sales manager in training in Lansing, Mich.
On the Road and Back
Since 1985, Crossley has served in various capacities around the country. One of her very first field assignments took her to the west coast. She recalls being assigned to the Bay Area for about four and a half years, and explained how much she enjoyed the region and life on the road. "It was such a great time. I was at the right age to be out there." During this time, Crossley completed her MBA from the university of Phoenix, and later took on about 7 different field assignments around the country before finally making her way back to Motown Corporate Offices in 2001. GM assigned her to supporting the newly formed Diversity Marketing Center for Expertise; the marketing and sales initiative for Women, African-American, Asian, and Hispanic consumer segments. "As the Hispanic Marketing Manager for all the GM brands my job was to better attract Hispanic consumers." She then served as HUMMERS's National Promotions Manager, and soon would be appointed director of Minority Dealer Development, to ensure GM had dealers that adequately represented the community they were trying to do business in. "It was my job to recruit, develop, and retain our portfolio of minority-owned dealers across the country." After five years in this position, in 2011, the then VP of Industry Dealer Affairs approached Crossley after GM entrusted him with the development of a diversity department. He wanted her to join his efforts in getting it off the ground.
"This is where the largest opportunities are for the future of our youth. If we don't get Latinos in this space, then they will not succeed as we want them to succeed."
Driving Diversity and Best Practices
It was also around this time that Crossley was first introduced to HACR. GM already had a strong partnership with HACR and Crossley was excited about getting to know the organization first hand. She attended her first CEF in 2012 and has been an active participant almost every year since then. She says the program gave her access to a wide network of talented professionals, who either do or have already done many of the things she is doing presently in her current role – who have also been successful and are willing to share their experiences. "It is a wonderful place where we can come together and get information, energy, and motivation to continue doing the work we do in order to have a lasting impact in the companies we work for." Crossley knows that expanding the STEM talent pipeline means starting early and being an advocate for her community. "This is where the largest opportunities are for the future of our youth. If we don't get Latinos in this space, then they will not succeed as we want them to succeed." GM's philanthropic efforts support different organizations across the country and Crossley is most proud of the company's efforts to actively recruit young students currently pursuing degrees in STEM. She is also happy with programs that make sure our youth are aware and excited about STEM career opportunities they can enjoy later in life. GM, for example, is an active partner in programs such as "FIRST Robotics" and "A World in Motion", which are designed to expose middle school and high school youth to careers in STEM. "We work with key organizations like the Society of Hispanic Professional Engineers and Great Minds in STEM. We go to their conferences to scout for talent. We offer internships and hire at those organizations to try to increase our talent. And once new talent walks through our doors, we engage them with our employee resource group." Additionally, as Crossley points out, all GM executives are actively engaged in driving strategy for their GM Latino Network—its recently revamped 1500-member employee resource group (ERG).
HISPANIC INCLUSION: A MISSION OF ADVANCEMENT
A 2017 report by the National Science Foundation recently revealed that women hold 13 percent of all science and engineering jobs—with Latinas accounting for only 2 percent. "A lot of times I was the only woman, and many times I was the only Hispanic on many teams and in many meetings," recalled Keef. She is uniquely aware of this staggering statistic—she never had a Hispanic supervisor until she joined Walmart earlier this year, where she reports to Senior Director of Walmart Technology, Carlos Riojas. In the same way that the company continues to reimagine and improve how they serve their customers, Walmart remains committed to constantly exploring ways to boost hiring and promote more female leaders and associates from diverse backgrounds. "Walmart takes great pride in its people-led, tech-enabled approach to doing great work the right way," says Keef. While she has only been with the company for five months, Keef is proud of the company's commitment to diversity. "I'm thrilled that Walmart works hard every day to grow a workforce that represents our customer base." As someone who climbed the career ladder, often without active support from a mentor, she expressed excitement for the company's recent sponsorship of the Grace Hopper Celebration. The goal of the three-day conference—one of the largest gatherings of female technologists of its kind— is to bring together women in STEM to discuss research, career interests, and emerging technologies. "I too, look forward to getting more involved with our various employee resource groups, including the Hispanic Latino Associate Resource Group (HLARG) and the Women's Resource Council (WRC), and continue to encourage and inspire young Latinos and Latinas to reach for that engineering degree."
Shaping the Future
"I started at a time very different from where we are today," reflects Crossley. "I believe it is critically important to acknowledge our up-and-coming talent. It is all about leadership development, fostering enthusiasm, and providing tools such as a network of young professionals that look like them and where they can tap into for knowledge and information that will allow them to professionally leverage themselves." Crossley points out that participating in workshops, conferences, and even nominating young professionals to programs like the HACR Young Hispanic Corporate Achievers™ (HACR YHCA), allows her to engage and better support young people in a more authentic manner. To Crossley, it is about doing more to create a greater impact in all aspects of the business. From a breadth and depth perspective, she constantly sets her aim on ways to grow and promote GM's current talent and to bring newcomers into the fold. "It seems simple, but I really believe that the most important thing we can do is to pay it forward. Our youth are encouraged when we recognize them. We get to remind them that they can also use their platform to mentor and bring up others as well."