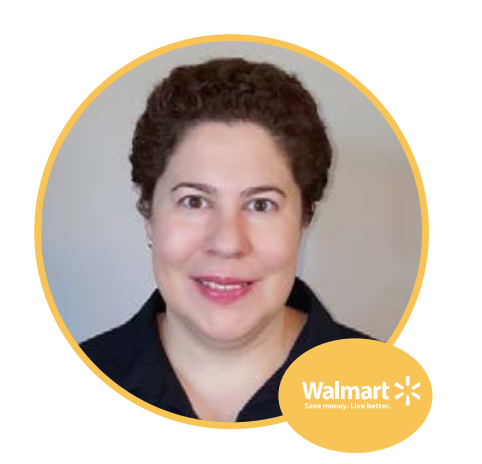 Ana Keef's mother inspired her to follow a career in engineering. Born to a Mexican father and Mexican American mother in Brownsville, Texas, the former Hanna High School alumnus was always good at math and solving complex equations. "Ana, not too many people are gifted at math or even want to do it", Keef recounts her mother saying. Her mother's instincts proved right as Keef began to discover early on that her love for math would become invaluable to her electrical engineering career. "I understood math and I liked it a lot. Electrical engineering is full of higher level math and statistics. I became very excited once I realized I could use my math skills to give back to society in a meaningful way. I'm glad my mom advocated for me to immerse myself in math early on."
TWO DECADES IN TECH
Though Keef's border town high school did not offer as many AP math and science classes as other schools in the region, Keef became impressively proficient in math and science, successfully earning a 4 year scholarship to pursue electrical engineering at Texas A&M, which has long been known for its science and math programs and world changing projects. Then, in graduate school at UT Dallas, Keef gained an even deeper appreciation for math. "I got to work closely with a professor who recruited me for a Ph.D. program", Keef explained, "and I did extensive research for many years. I saw just how important math was for engineers to solve real life problems." Earlier this May marked the 20-year anniversary of her and her husband's graduation from Texas A&M. "The bonus of being admitted to Texas A&M was meeting my husband. We were both electrical engineers, we were in all of the same classes, and we learned that we had the same spirit and appreciation for all things tech and nerdy," she beamed. Keef has held a number of impressive electrical and systems engineering roles at numerous companies throughout Plano, Texas. She points out that her technical background and experience have consistently been in high demand by employers, allowing her to remain competitive in the job market. "Pursuing an engineering degree opened many doors for me because companies are constantly in need of domestic engineers of all kinds all across the country."
"Statistics and advanced math like calculus and linear

algebra,

prepared me for machine learning and effectively keeping track of the company's

day-today

store operations."
MID-CAREER SHIFT: INTERNET OF THINGS AND MACHINE LEARNING
Up until this year, Keef's career had been all about electrical engineering, working with hardware systems, building circuit boards, and monitoring electrical devices. "But then, I got the bug for programming and I really liked it," exclaimed Keef. She was doing various consulting projects, including some small software engineering projects, when she heard about an opening in Walmart's new technology hub in Dallas earlier this year. The company was looking for someone with electrical engineering background for a software engineering role. The role could not have been a better fit for Keef, who enthusiastically explained, "When the opening was brought to my attention, I thought, wow, this is me!" While Keef may be new to the field of high tech machine learning, she immediately recognized the usefulness of her math experience from her previous life as an electrical engineer. "Statistics and advanced math like calculus and linear algebra, prepared me for machine learning and effectively keeping track of the company's day-to-day store operations," she shared proudly.
A PERFECT COMBINATION
In her role as a software engineer, Keef uses data obtained from the internet of things (IoT), machine learning, and artificial intelligence to develop models that analyze and predict in-store activities, such as when a refrigerator might require repairs before it is broken, or even monitoring store temperatures to keep customers comfortable while ensuring savings on energy costs. Though she may not be interacting with Walmart's customers directly, her work has an undeniable daily direct impact on them. "It's really about monitoring, doing preventative maintenance, and optimizing technology to make sure our customers have the best possible experience while they are visiting our stores," she explains. For Keef, working with IoT, machine learning, object detection, and other new innovations critically important to the ever changing physical-digital retail space experience is not just another day at work. Rather, it is the perfect combination of electrical and software engineering to keep her talented brain impassioned, engaged, and happy.
HISPANIC INCLUSION: A MISSION OF ADVANCEMENT
A 2017 report by the National Science Foundation recently revealed that women hold 13 percent of all science and engineering jobs—with Latinas accounting for only 2 percent. "A lot of times I was the only woman, and many times I was the only Hispanic on many teams and in many meetings," recalled Keef. She is uniquely aware of this staggering statistic—she never had a Hispanic supervisor until she joined Walmart earlier this year, where she reports to Senior Director of Walmart Technology, Carlos Riojas. In the same way that the company continues to reimagine and improve how they serve their customers, Walmart remains committed to constantly exploring ways to boost hiring and promote more female leaders and associates from diverse backgrounds. "Walmart takes great pride in its people-led, tech-enabled approach to doing great work the right way," says Keef. While she has only been with the company for five months, Keef is proud of the company's commitment to diversity. "I'm thrilled that Walmart works hard every day to grow a workforce that represents our customer base." As someone who climbed the career ladder, often without active support from a mentor, she expressed excitement for the company's recent sponsorship of the Grace Hopper Celebration. The goal of the three-day conference—one of the largest gatherings of female technologists of its kind— is to bring together women in STEM to discuss research, career interests, and emerging technologies. "I too, look forward to getting more involved with our various employee resource groups, including the Hispanic Latino Associate Resource Group (HLARG) and the Women's Resource Council (WRC), and continue to encourage and inspire young Latinos and Latinas to reach for that engineering degree."
CONTINUOUS LEARNING
Keef encourages young Latinos and Latinas to dive into careers in STEM. "Going for that engineering degree is so worth it! If you are thinking about going to college, where you will be studying for 4 years, you might as well study engineering and learn those technical skills while in school. You don't have to be a perfect straight-A student. There are dozens of great types of engineering careers to choose from, like mechanical, chemical, computer science, and computer and software engineering among others," she continued. In a world driven by constant technological and economic evolution, Keef also weighs in on the importance of continuing education, as she herself owns a desire to continue learning "so many new things", including all the new technologies out there that are different from what she did before as an electrical engineer. "I love working with technology, I really love math and science, and I could not imagine having another career."