Latino businesses are a significant driver of economic growth—growth that is much needed in the economic uncertainty left in the wake of the COVID-19 pandemic. With the potential to create jobs and revitalize communities, it is crucial that companies capitalize on this opportunity and diversify their procurement practices by looking towards Latino-owned businesses as potential supplier partners. This article outlines three actionable steps companies can take to improve their supplier diversity and better support Latino-owned businesses.
---
Latino-Owned Businesses are Driving U.S. Economic Growth
Latino-owned businesses are crucial to the long-term well-being and growth of the U.S. economy. Without them, the U.S. economy would have fared worse throughout the 2008–2010 recession. In fact, researchers estimate that unemployment rates would have risen above 10 percent if it were not for Latino business creation.[1]
Propelling this business growth is the entrepreneurial spirit found in Latino communities, with Latinos starting businesses at a faster rate than any other ethnic group. The number of Latino-owned businesses increased by 34 percent between 2010 and 2020, a pace higher than that of non-Latino owned small businesses. What's more, the number of Latino-owned businesses with at least one employee on the payroll other than the owner, grew 14 percent between 2012 and 2017 – that's twice the U.S. average of six percent.[2]
Pandemic Impact and Projected Future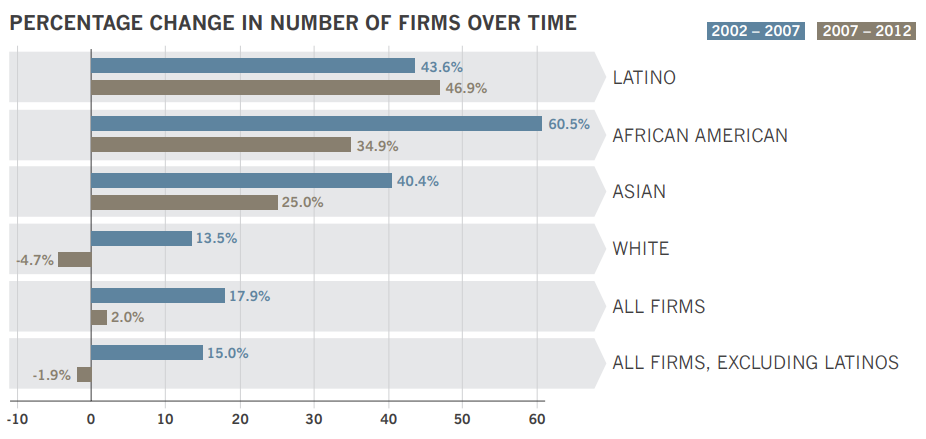 Latino-owned businesses were unfortunately struck hard by the pandemic. The Stanford Latino Entrepreneurial Initiative reported that 86 percent of Latino businesses owners had felt immediate negative impacts from COVID, a rate higher than any other ethnic group. Nevertheless, the future for Latino-owned businesses is bright: the likelihood of recovery for Latino-owned firms is projected to be as high as 80 percent.[3] With higher levels of education and homeownership, these new Latino entrepreneurs represents a promising path to upward mobility and community wealth. Their businesses' greatest strengths lie in the tight-knit relationships they have with the communities they are in.
With roughly 400,000 Latino-owned businesses generating about $500 billion in annual revenue and employing 3.4 million people in 2019, Latinos have been a driving force of U.S. economic development.[4] In the wake of the COVID-19 pandemic it is crucial that companies look towards Latino-owned businesses as potential suppliers to capitalize on their rapid growth and support our economy.
Why Companies Need a Supplier Diversity Program
There has been a growing consciousness amongst companies regarding the importance of supplier diversity. But what is a diverse supplier? A diverse supplier is a business that is at least 51 percent owned and operated by a member or members of a traditionally underrepresented group. This can include women, veterans, racial and ethnic minorities, and LGBTQ+ individuals.[5] Research into corporate social responsibility has revealed the ethical and instrumental benefits of diversifying suppliers and investing in Hispanic-owned businesses.[6] A commitment to supplier diversity benefits a company because it:
Grows its consumer base

by building brand name and brand trust among potential new customers and partners.

[7]

Develops community relations

by uplifting communities in which the businesses are located through job creation, tax revenue, and increased wages. This allows a company to become an agent of positive change within local communities.

[8]

Adds economic value

by encouraging the growth of diverse small businesses, which aids in the economic recovery and sustainability of the communities they reside in

–

thereby improving the U.S. national economy as a whole. When companies increase their diverse spending, they see a similar increase in market share.

[9]
So how can your company take advantage of the accelerated growth and successfully support Latino-owned businesses? Here are three ways a company can improve its supplier diversity:


Improve the Quality and Transparency of Procurement Data: A UN report on Transparency and Public Procurement

emphasizes the need for effective and efficient procurement processes to achieve procurement goals of fairness, competition, and economic value. They highlight practices such as publishing procurement policies, disclosing evaluation criteria in solicitation documents, advancing publication of procurement plans, and establishing appropriate and timely dispute mechanisms.

[10]

As consumers continue to become more conscious of corporate social responsibility, supply chain transparency is a must. A study by MIT Sloan found that increased supply chain transparency increases consumer trust in the company and can even result in higher revenue from socially conscious or skeptical buyers.[11]
Establish Clear Benchmarks to Ensure Organizational Accountability: Companies need to set the tone from the top by assigning responsibility and accountability of supplier diversity goals and metrics. By measuring the economic impact

–

a metric that shows the value of supplier diversity on local communities and economies

–

of supplier diversity programs by racial and gender identity, companies can gain a clearer, more nuanced picture of the impact of their diverse spending on the Hispanic communities they serve. Robust, intersectional metrics must be consistently used to reassess the percentage or dollar benchmarks set by roughly 97 percent of Fortune 500 companies on supplier diversity.

[12]

A corporate example of supplier diversity benchmarks is PG&E which spent 41.5 percent of its Tier 1 procurement budget with minority-owned businesses and ties procurement-management compensation to supplier-diversity success. PG&E also utilizes strong metrics to assess their benchmarks, including revenue growth of diverse suppliers, diversity as a percentage of total spend, the number of diverse suppliers, recognitions from outside organizations, and savings from contracting with WMBEs.

[13]

Support and Work with Communities, Councils, and Third Parties: To ensure that supplier diversity initiatives are having a beneficial impact on the communities that they are serving, it is crucial that corporate programs support and work with local Hispanic communities. Successful programs understand the neighborhoods they are working in and adapt to accelerate their progress and broaden their reach, whether that be through bilingual materials, face-to-face i

nteractions with local representatives, or partnerships with organizations already collaborating with Hispanic communities—such as the

U.S. Hispanic Chamber of Commerce.

A corporate example of this partnership is the supplier diversity program of UPS. Since it was started in 1992, the program has partnered with organizations such as the U.S. Hispanic Chamber o

f Commerce and the

National Minority Supplier Development Council

to run training and mentoring programs—such as workshops, management education, and enhanced opportunities for capital investment—to accelerate the growth and success of diverse suppliers.

[14

]
With multifaceted development across states and industries – such as construction, finance and insurance, transportation, and real estate – Latino-owned businesses are leading small business revenue growth and U.S. economic expansion.[15] Corporate initiatives that take advantage of this huge economic opportunity by working with and supporting Latino-owned suppliers have the potential to receive tremendous internal and external benefits, ensuring their own continued success and long-term growth.