HACR Concludes 2019 Executive Programs
Hundreds gather in Miami, FL to participate in the 2019 Executive Program to hear from successful Hispanic leaders in Corporate America, non-profit, education and consultancy firms.
WASHINGTON, D.C., May 10 /CSRwire/ – The Hispanic Association on Corporate Responsibility (HACR) concluded 2019 Executive Programs which took place May 3-5, 2019, at the JW Marriott Marquis in Miami.
The 2019 Executive Programs comprise of four groups; HACR Young Hispanic Corporate Achievers™, Corporate Achievers Summit™, Corporate Executive Forum™ and Corporate Directors Summit™. These four leadership development programs are designed to accelerate the human capital of mid to senior level corporate executives, board members, and rising talent. A selection criteria must be met for participation in each program.
HACR Young Hispanic Corporate Achievers™ participants consist of talent currently employed at Fortune 500 and HACR Corporate Member companies, within an age range of 25-40 years old. A nomination, application, and selection process must be completed prior to admittance into the program. During the HACR Awards and Recognition Dinner, 40 HACR Young Hispanic Corporate Achievers were awarded for their completion of this competitive program. Read more about the 2019 YHCA class here.
HACR Corporate Achievers Summit™ is a three-day leadership development, educational, and training programs with a focus on transitioning mid-career talent to the C-suite. The program is only open to past participants of the HACR YHCA™ program. Noteworthy sessions were Cultivating CAS Connections & Strategic Partnerships, Executive Principals, and Insights from the C-Suite.
HACR Corporate Executives Forum™ consists of senior level Hispanic/Latino executives within three reporting levels to the enterprise-wide CEO or those who have the fiduciary responsibility of profit and loss functions in excess of half a billion dollars. Participants must be U.S. based Hispanic/Latino C-suite executives at Fortune 500 and/or HACR Corporate Member companies. Sessions included A Look Into The Boardroom with ManpowerGroup and Understanding Unconscious Bias,
HACR Corporate Directors Summit™ is a development program that is by invitation only. Business sessions focus on challenging boardroom issues, boardroom best practices, and strategy development to address the lack of Hispanic inclusion on corporate boards. Noteworthy sessions are Managing Disruptive Environments, Maximizing Your Capital Structure, and Understanding the Need for an Augmented Reality Strategy,
To learn more about Executive Programs and watch session videos visit www.hacr.com/executiveprograms. Follow HACR on social media Facebook, LinkedIn, Twitter, or Instagram using the hashtag #HACRevents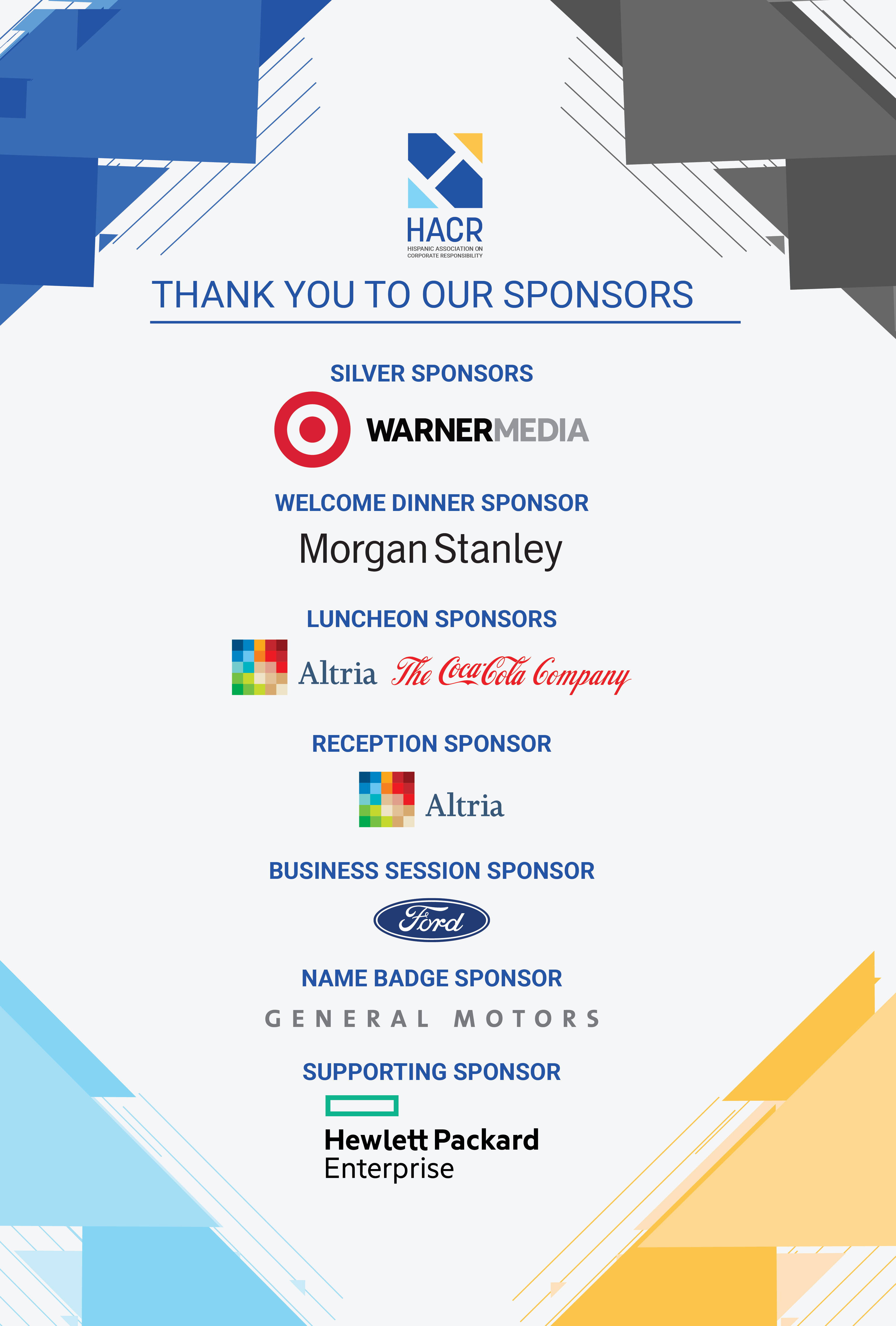 About the Hispanic Association on Corporate Responsibility
Founded in 1986, the Hispanic Association on Corporate Responsibility (HACR) is the nation's leading corporate advocacy organizations in the nation representing 14 national Hispanic organizations in the United States and Puerto Rico. Its mission is to advance the inclusion of Hispanics in Corporate America at a level commensurate with our economic contributions. To that end, HACR focuses on four areas of corporate social responsibility and market reciprocity: Employment, Procurement, Philanthropy, and Governance.